Activities
Nurturing the Body, Mind and Soul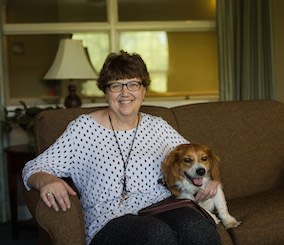 At Mill Street Residence, we work hard to allow tenants to be able to continue the activities they enjoyed before moving to Mill Street Residence.
Planned group outings involving visits with school children, music programs, plays and concerts.
Social events: reminiscing groups, cards, reading circles, gardening, baking and bingo.
Intergenerational and community activities.
Weekly bible studies and routine worship services offered.
Our goal is to offer tenants plenty of opportunities to be active and social, while respecting their desire for privacy. View our weekly activity calendar here.
Every day is a gift, and we help our tenants live it to the fullest!
"Most of the tenants have been very active members of their communities, and that doesn't have to change when they move in."
Social Activities
You don't stop moving because you age. You age because you stop moving! That's why we offer our tenants a variety of classes, games and social gatherings to keep the body and the mind active.
Cards, cribbage, bingo or other games, reading circle, daily exercise class, bible study, music, worship service, visits with school children, special meals, afternoon coffee, gardening, and educational programs are all examples of what you'll find on our activity calendar.
Exercise Classes
To nurture the physical wellbeing of our tenants, we offer a variety of exercise classes every week. These classes are led by Susie Benhardus, who specializes in Arthritis exercises and Tara Wagner, who specializes in strength-training and cardio exercises. Mill Street also offers Gentle Stretch, which are simple chair-yoga stretches. Something for everyone!
Arthritis Exercise Benefits
Joint flexibility and muscular strength.
Sleep.
Overall energy.
Yoga/Stretch Exercise Benefits
Flexibility and joint mobility.
Relaxation.
Overall energy.
Strength-Training and Cardio Benefits
Increased energy levels.
Muscular strength.
Cardiac health.
Pet therapy is also another beneficial service that is offered at Mill Street. Furry pets are just like family.
Offsite Activities
Fergus Falls has a lot to offer its residents including a vibrant arts community, beautiful lakes and outdoor scenery and an active social calendar. Mill Street tenants are encouraged to participate in the events our town has to offer and to be active members of the community.
Some of Our Frequented Activities Include:
Rides around town and in the country.
Outings to Prairie Wetlands Learning Center.
A Center for the Arts plays and entertainment.

Musicians.
Plays.
Dances.

Concerts offered through the Concert Association Series.